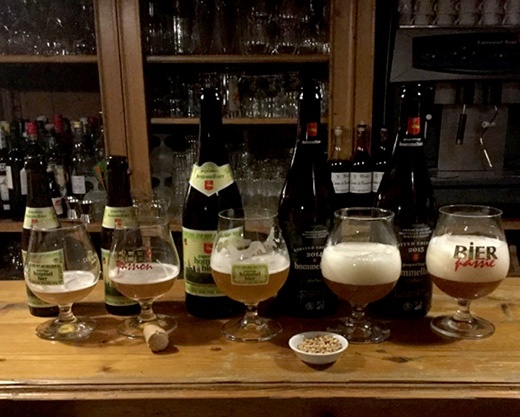 Tasted 30/01/2016 : Joost – Tom – Els – Tom – Daan – Joeri
Hommelbier 1/4 : 15/10/2017 (+/- 3 month old)
Hommelbier 1/4 : 27/08/2016 (+/- 17 month old)
Hommelbier 3/4 : 13/08/2016 (+/- 17 month old)
Hommelbier Fresh Harvest Limited Edition 2015 (+/- 3 month old)
Hommelbier Fresh Harvest Limited Edition 2014 (+/- 16 month old)
Result :
The youngest hommelbier is a rather bitter, soft malty gold blond beer with a reasonable aftertaste. The taste of 'iron' is noticable, however that is always so with beers from Van Eecke, however it blends well and overall has a soft bitterness..
A blond, somewhat bitter beer without too much alcohol isn't made to 'keep'. After 17 months the scent is dampened, the flavour more malty and the aftertaste sweeter..
The biggest surprise was the 75cl bottle of the approx. same age. A lovely beer, very fresh, fruity, good on hop taste and strong in the mouth. In fact it tastes even younger than its 3 month old 'little brother'.
De Fresh Harvest 2015 is a tasty, however it's name is a little deceiving. It is a little less bitter than the usual homelbier. The original kick of bitterness soon disappears from your tastebuds. Not really suited as a IPA.
The second surprise was the same version from 2014. It really is incredibly malty, very dry with lots of aroma and flavour. Together with older large bottle of Hommel was this the evenings highlight.