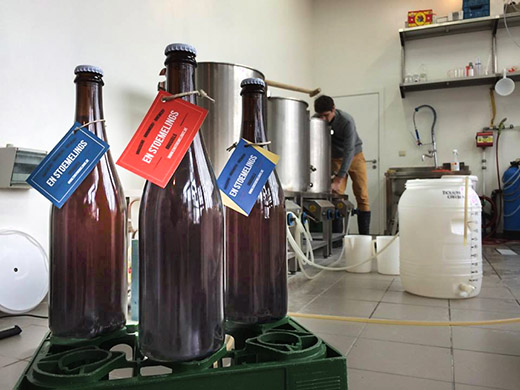 Tasted by: Joost – Tom – Els – Tom – Daan – Arnoud on 6 march 2016
Cantillon was for a long time the only brewery in Brussels, now we have Brasserie de La Senne along with Brussels Beer Project and En Stoemelings ,more will follow I believe !.
We tasted those from 'En Stoemelings', 2 young Brusselars who produce 500 litres per week in their Brewery in the heart of Brussels, in the Marollen district.
Result:
The Curieuse Neuse is a malty, fresh triple with 7 vol. % alc, It is a perfectly balanced beer with a good blend between malt, hops and yeast. The aromas  keep well through to the taste. En Stoemelings is not a dominant hop beer but this Curieuse Neuse treats us to a long, soft and pleasantly bitter aftertaste. It strays not to far from that classic tripel flavour with a fruity aroma and is neither too sweet or bitter. Definitely has some character….
The Cuvée Houdini surprised us a little more. Amber coloured with a red shine has a lovely caramel flavor with citrus undertones. The flavours of coriander and apple peel rise up in the malty taste. Despite being lighter in alcohol the focus is again on  aroma and taste. Also the malt and yeast are dominant and not the hop..
The Geele Tram is 5 vol. % alc. But gives us just as much inspiration in relation to the aroma, again citus, peppers, soft brown sugar and tea flavours shine through. A good fresh drink, you can always give us a second one!
3 nice beers, a pleasure for the true beer lover.